FAQ - Frequently Asked Questions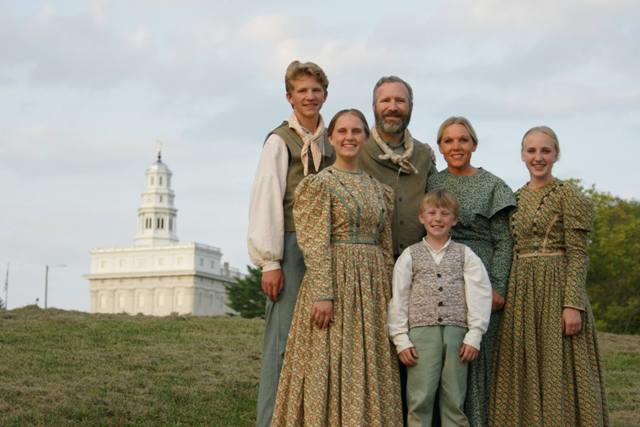 Pageant Family Cast Participants
Below are some commonly asked questions geared towards pageant service. They are compiled from past and current cast members who have served in various positions in Nauvoo. The majority of the quesitons concern family cast, but most apply to volunteers and support staff also. If you are a pageant guest, some of the questions will apply to your visit also. We hope to seee you in Nauvoo!
Do you have a question? Contact the Pageant Mission Couple here: thenauvoopageant@gmail.com
Didn't all pageants get canceled in a recent change?
No. Although other pageants were not to continue, the pageants in Nauvoo will continue into the future with full support of the Church of Jesus Christ of Latter-day Saints. See Statement.
How will the pageants handle Covid-19 concerns regarding safety?
The pageants will follow every guideline of local, state and national leaders. The safety of our participants and guests is our main concern. Every precaution will be taken in order for the pageant performances to be enjoyable as well as safe for everyone involved. The 2020 and 2021 pageant performances were canceled due to the pandemic restrictions. The 2022 pageant is moving forward as planned pending further instructions from government and church leaders. See a statement from pageant sponsor The Church of Jesus Christ of Latter-day Saints: See Statement Applications to serve as cast and volunteers are typically accepted from September 1 to October 31 each year. Due to the global pandemic situation, cast and volunteers for 2020 and 2021 did not have an opportunity to serve. It is our intention that these individuals have priority to serve in the 2022 cast if at all possible.
Does everyone who applies get accepted into the cast?
Unfortunately, the pageant receives many more applications that it can accomodate each year. Successful candidates are notified by late December or early January of their service status. If you don't get accepted, please try again the next season. We are so grateful for all those willing to serve, and know the Lord will bless all who have those desires.
Do we need to be perfomers, singers or dancers to be in the cast?
No! A testimony of the gospel and a desire to share it is the most important thing cast members need to serve. Being physically fit enough to handle the rigors of outdoor stage performance, as there is heat and humidy is another consideration. It is said of the pageant cast members that they don't dance, but "moving with joy" on stage. The pageant's country fair requires families and individuals to be dressed in pioneer clothing each evening while helping pageant guests enjoy the various activities. It can be moderatly demanding physically, especially for those with small children. But the rewards are great! We do have 20+ talented performers in the Core Cast that do the speaking and acting parts. The family cast ensemble works with the Core Cast and does a wonderful job regardless of prior stage talents. All are welcome and encouraged to apply!
Is there a preference given to Families vs. Individuals in the casts?
The pageant does give preference to complete family units who apply, meaning everyone who is in your family comes together to participate. Your "complete" family unit may be a single parent with children, a single adult, or a couple with no children. All family situations are welcome. If you are supposed to serve in Nauvoo, the Lord will make sure that happens. We encourage all to apply who have desire to serve in this unique pageant opportunity.
Do you accept families with small children, or babies in the pageant?
Yes. Cast members range from newborn to senior citizens and everything in between. However, families are encouraged to prayerfully consider if your small children can handle the rigors of the two week family cast schedule before applying. The heat and long days can be difficult, but of course the experience for families and individuals is very rewarding.
What is the schedule like? How many hours per day are required to serve in the family cast?
A typical day would be for you to be on the outdoor stage from 8:00AM - Noon, then 2 hours for lunch. The cast then meets at the air conditioned PHQ Pageant Head Quarters building for an indoor rehearsal from 2:00PM - 4:00PM, then a 2 hour break for dinner. Cast members return to the PHQ at 6:00PM in costume with hair done for the Company meeting from 6:00PM to 6:30PM, then travel to start the pageant's country fair from 7:00PM to 8:30PM. During your first week of service, you would then watch the pageant from 8:30PM to 10:00PM, or be in the pageant during your second week of service. After meeting and talking with pageant guests for up to an hour, you get home well after 11:00PM. Although you have much more free time during the day during your second week of service, you are pretty busy from 8:00AM to 11:00PM daily except Sunday.
Do I need my own transportation in Nauvoo?
Yes. Rehearsals are held on the pageant stage, and 4 miles East at the PHQ Pageant Headquarters building. This distance back and forth make it very difficult to serve without your own transportation. Relying on others for rides is possible, but has been found to be very difficult if not impossible for cast members in the past. We encourage you to have your own transportation if you are selected to serve as a cast member or volunteer.
Do cast members make or pay for our own costumes?
No. The pageant provides all costumes necessary at no cost to participants. However, you are responsible for finding your own shoes. Guidance for that will be provided to those who are accepted as participants.
How does seating work? Do people bring their own chairs or blankets?
The pageant provides sturdy plastic chairs for pageant guests. There is plenty of seating and there is no area for blankets or for your own chairs. Pageant guests can come to the South side of the seating area at 2:00 p.m. to reserve seats for that evening's performance. String, pencils and paper markers are provided. All reserving of seats is done in person the day of the pageant. There is no way to call ahead for seat reservations.
Is there a cost, or are tickets needed for the pageant performances?
No. The Country Fair and Pageant performances are all free, and no tickets are required. However, there are other shows in Nauvoo performed by the YPM Young Performing Missionaries and Senior Couples. Tickets are free, but required for those events as well as for the wagon and carriage rides. Sunset on the Mississipi is a wonderful show that does not require tickets. See Nauvoo Historic Sites for more information on Nauvoo events.
What is the Cell Coverage like in Nauvoo?
US Cellular is a regional midwest carrier that works best in Nauvoo. ATT works well now due to a new tower in 2018. Verizon has worked very well for most people over the years, with the other carriers being "hit and miss" at best. Service seems to work better down on the flats where the pageant is held and the historic homes are found. There is virtually no Cell service inside the PHQ Pageant Headquarters Building, but most carriers work if you exit the building.
Is there WIFI in the PHQ Pageant Headquarters?
There is great internet available in the Pageant Headquarters Building (PHQ)! It is the same internet password as any LDS church building in the world. It does limit streaming of videos and blocks the same content blocked in church buildings. However it is a much faster connection than in the average LDS church building.
Where is the best place to find housing information in Nauvoo?
All pageant family cast members, staff & volunteers are responsible for their own housing. There is a campground option for RV's & Trailers depending on space. There is a State campground, and a private RV park on the East side of Nauvoo. See Nauvoo Chamber of Commerce Housing Options.
What about laundry in Nauvoo?
Cast members are required to clean and maintain the costumes assigned to them during their pageant service. If your housing accomodations do not include laundry facilities, you can use the laundry on Mulholland 2 blocks East of the Temple in Nauvoo.
Where is the best place for groceries?
The only grocery store in Nauvoo is Dollar General (2019). It has a wide variety of items and food. There is a gas/convenience store and 3-4 restaurants in town. Keokuk and Ft Madison are both about 20 minutes away from Nauvoo with more shopping and food options.
Meals while in Nauvoo: Our own vs Cafeteria?
There are 3-4 restaurant options in Nauvoo as of 2019. You can provide your own food or use the pageant cafeteria plan at the PHQ Pageant Headquarters located about 3 miles East of Nauvoo. They provide lunch and dinner only at a reasonable cost. This information is given to those accepted to serve in the pageant.
What is the weather like and how is it best to prepare?
Be prepared for very hot and humid weather, but also occasionally cold and rainy. And sometimes both in the same day. We have had years with extreme heat & humidity, with some weeks being cool enough that blankets were used by the audience during the performances at night. The key is to be ready for the heat by making sure you stay very hydrated and use a hat. Heat stroke is the number one medical condition in the summer in Nauvoo. Sunscreen is also recommended.
What about bugs, mosquitos, ticks & chiggers?
Be advised that bug spray is something that many use in Nauvoo. It is especially necessary in longer grass and walking through wooded areas. Chiggers are something with which many are not familiar. You can't see them, but they leave a bite that causes much scratching and could become infected. See Chiggers here.